100% SOLVENT RESISTANT
BORE GUIDES
    Our BORE GUIDES are machined from a solid piece of Delrin®.  This material

is 100% solvent resistant.  Bore Guides are designed to align the cleaning rod

with the center of the rifles bore.  This insures that no damage can be done to

your rifle barrel, cleaning rod, or bolt face by a jag or brush.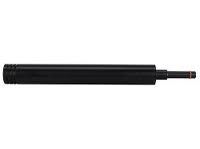 Almost all Bore Guides, with the exception of Rimfire Bore Guides are designed

with a snout that extends into the chamber.  This snout has a silicone "O" ring

that seals off the chamber.  This insures that no solvent can run back into the

action or trigger.  For optimum performance add an optional integrated or

separate Solvent Port.

                                                                        SOLVENT PORTS
    The Solvent Port allows you to apply solvent to your cleaning patch or brush while cleaning.  The Solvent Port is an accessory to our Bore Guide...or have a Bore Guide custom made with an integrated Solvent Port.  The Solvent Port is available in two sizes:
                  SM: 17 Cal. - 6.5 Cal.                LG:  17 Cal. - 30 Cal.